Attending the ceremony, to Hue University, there was Dr. Tran Trung Hy - considered as the Head of Training Department.
To HUAF, there were Assoc.Prof.Dr. Le Van An- Rector; leaders of departments; deans; and fresh PhDs and Master students.
Up to now, HUAF has trained 10 specializations for master programs (Plant Sciences, Animal Sciences, Veterinary Medicine, Land Management, Aquaculture, Rural development, Mechanical Engineering, Plant Protection, and Food Technology). In addition, HUAF has got 08 PhD programs such as Animal Sciences, Plant Sciences, Land Management, Forestry, Rural development, Veterinary Medicine, Plant Protection and Fisheries).
At present, HUAF has 25 training courses with a total number of 2,763 students, of which more than 2,345 students have been granted for master's degrees in science and 418 master students and 48 PhD students have been studying.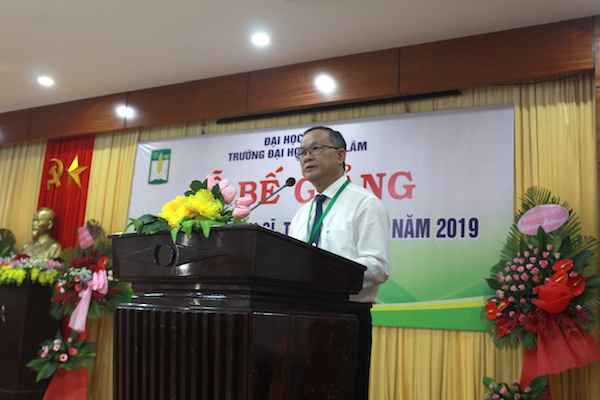 Speaking at the closing ceremony, Assoc. Prof. Dr. Le Van An hoped that graduates would apply their knowledge to serve for the country in the future. He wished that graduates were well-equipped with amount of knowledge, enthusiasm, dynamism and creativity in a professional learning environment would have many contributions to scientific research as well as other programs of HUAF. Moreover, he expected that HUAF would keep receiving close cooperation with graduates who become effective partners in training, scientific research and practical application.