On July 12 and 13, 2021, the Sustainable Farming Project Review conference was held online at the University of Agriculture and Forestry, Hue University.
Attending the conference, on the side of University of Agriculture and Forestry, Hue University (HUAF), there were: Assoc.Prof.Dr. Tran Thanh Duc - Rector - chaired the conference, along with officials and lecturers of HUAF, University of Science and Institute of Biotechnology, Hue University.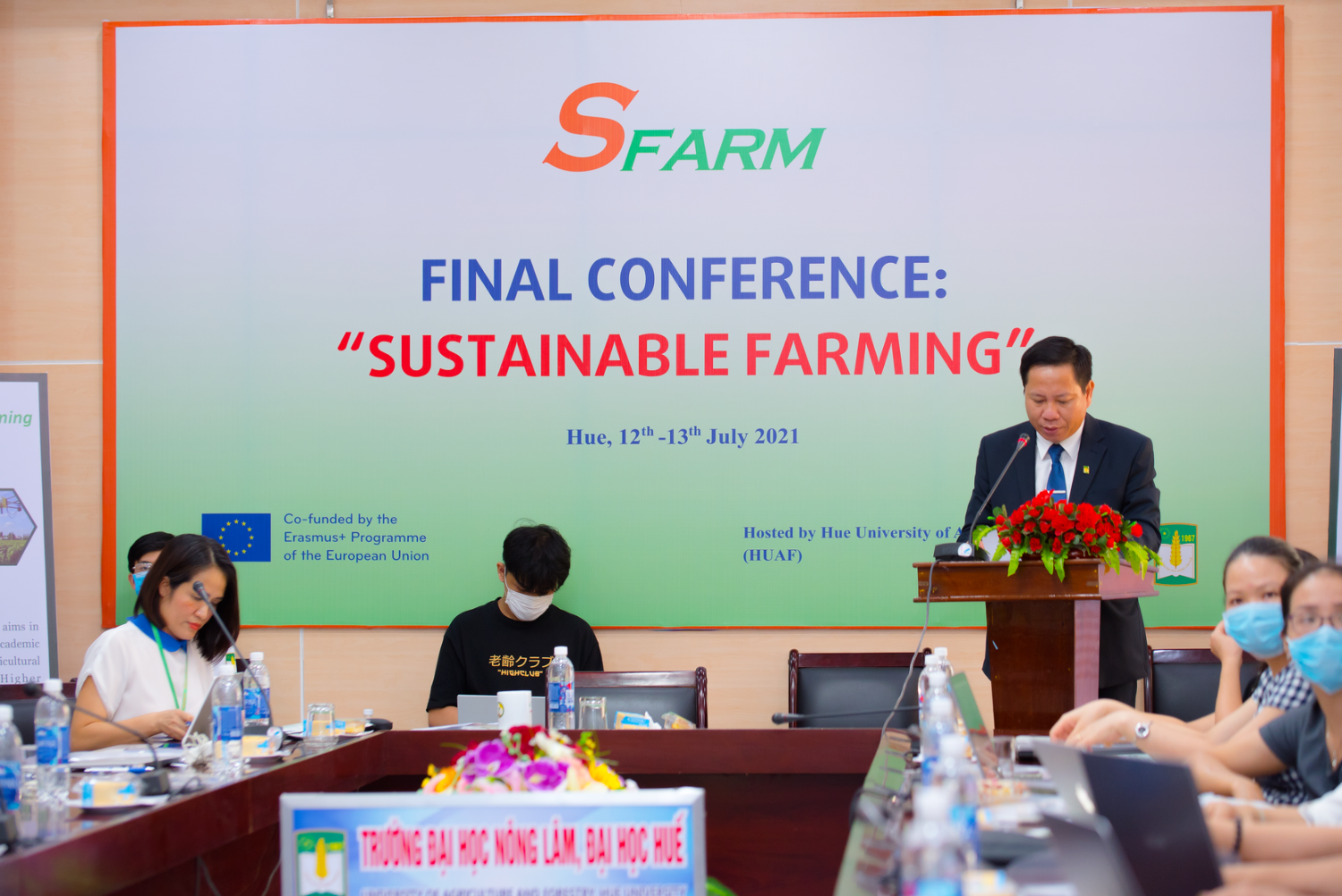 Speech of Assoc.Prof.Dr. Tran Thanh Duc at the conference

Sustainable Farming (SFARM) project is funded by the ERAMUS+ Program of the European Union, including partners participating in the project implementation. In Asia, there are universities: HUAF and Tay Nguyen University (Vietnam), Bogor University of Agriculture and Syiah Kuala University (Indonesia), South West University and Chongqing Three Gorges University (China), Champasack University and Savannaket University (Laos).

European partners include: Agricultural University of Athens, Greece (Project Coordinator); University of Evora, Portugal; University of Basilicata, Italy; EUROtraining Organization, Greece.

The SFARM project is conducted from 2017-2020 with the goal of improving the skills of staff, lecturers and students of agricultural universities of Asian countries. The objective is achieved through the development of a master's degree program on an integrated basis of applied research in agriculture with the help of European Universities; the strengthening of cooperation and knowledge exchange in the field of sustainable agriculture between Asian and European training institutions; and the establishing sustainable relationships with companies and agribusinesses in order to solve human resource needs and improve job opportunities for SFARM trainees.

At the conference, Assoc.Prof.Dr. Tran Thanh Duc stated that the SFARM project is very meaningful for Asian universities in general and HUAF in particular. In 2021, HUAF is very honored to be the host of the SFARM project review conference after more than three years of implementation. Assoc.Prof.Dr. Tran Thanh Duc also expressed his thanks to the project sponsoring partners, especially Prof. George Papadakis from Athens Agricultural University, Greece – Coordinator of the project, for creating the opportunity for HUAF to participate in project implementation and development.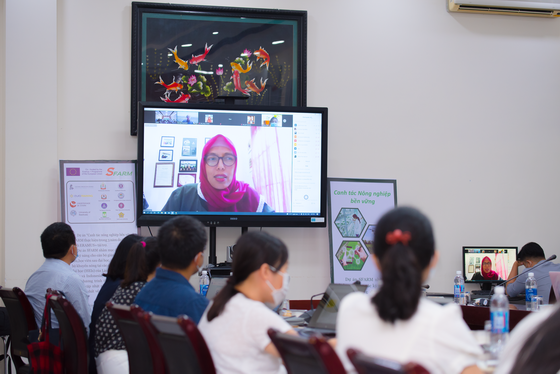 Online reports of project participants
At the Conference, attendees received presentations on topics, such as:
- Training in sustainable agriculture in Vietnam;
- Accreditation of training quality of educational institutions;
- The process of accrediting the training quality of the Master's Program in Agro-Ecology at Syial Kuala- Indonesia;
- Investigating teaching methods to promote the creativity of graduate programs;
- The effect of organic fertilizers on crop quality and yield;
- Sustainable development of coffee and pepper crops in the Central Highlands of Vietnam;
- Sustainable agricultural cultivation;
- Application of microorganisms in agricultural waste management;
- Orienting the application of biotechnology in crop science and plant protection in Central Vietnam;
- Training needs of the Master's Program on Sustainable Agriculture;
- Developing a Master's Program on Sustainable Agriculture at the University of Savannakhet, Laos;
- Master's Program in Sustainable Agriculture at Champasack University, Laos;
- Impact assessment of the SFARM project at HUAF and Tay Nguyen University, Vietnam;
- Assessing public attention to agricultural training by film.

After more than three years of implementation, the SFARM project brought the participating units the following results: 03 new/updated subjects; 03 newly developed vocational courses; 40 students participated in vocational training/school; 05 lecturers/experts trained in new knowledge on Sustainable Agriculture; at least 12 lecturers/researchers/training specialists participating in SFARM VLE; 1 AgroLab laboratory established; at least 15 students participating in the newly developed program.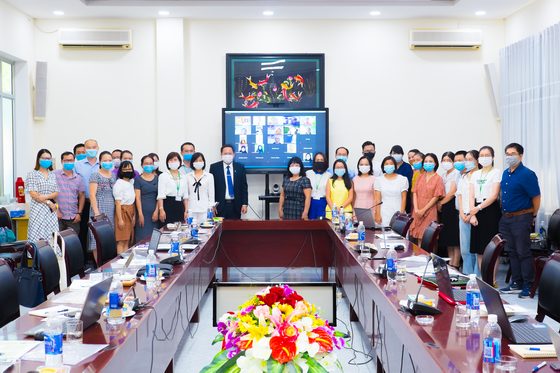 Conference attendees at HUAF
Through the SFARM project, participating units will continue to connect information, share knowledge, develop programs within the framework of the project, and work together to build a more sustainable future as the project's goal.