On October 15th, 2016, at Huong Giang Hotel (51 Le Loi street, Hue city), Thua Thien Hue Department of Planning and Investment and Hue Industrial College, in collaboration with CoPlus company and Vietnam Creative Innovation program - Finland organized the Final and Award the contest of Hue Innovation Debut in 2016.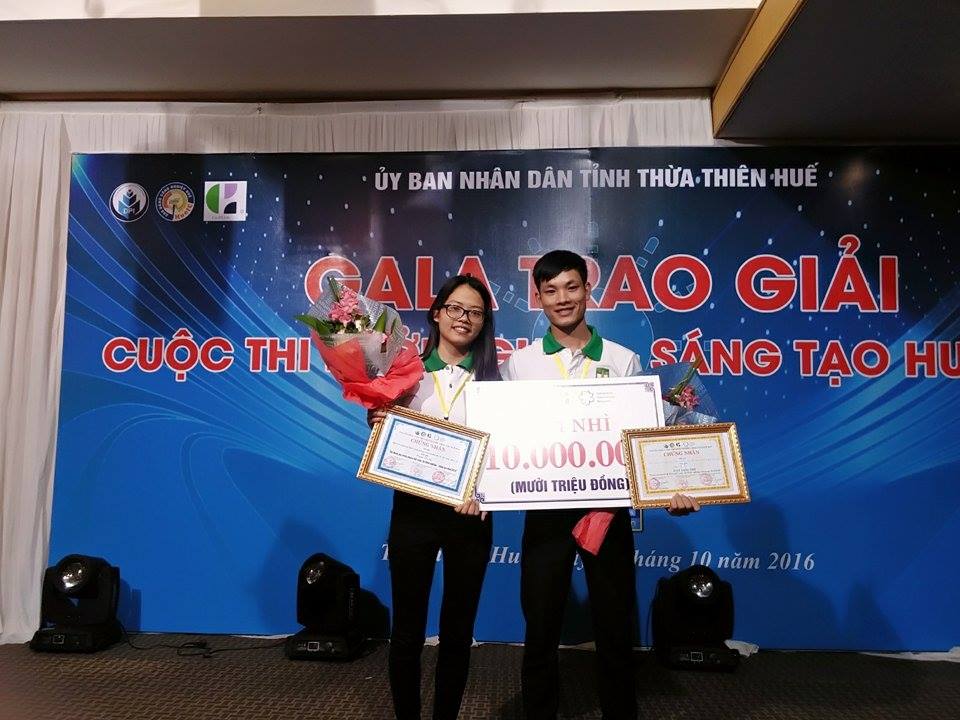 After 3 months of organization, the competition has received 52 ideas in 52 groups participated in many fields: agriculture, information technology, communications, technology and so on. Accordingly, the organizers have selected 18 of the 18-team ideas have great potential, high practical applicability into the final round. The Organization Committee chose the best 5 ideas to present 01 first prize, 01 second prize, 01 third prize and 02 consolation prizes.

In the competition, students of HUAF have 2 excellent ideas and the organizers awarded the prizes for HUAF students, including:

* The second prize with the idea of ​​"Development and expansion of bio-pesticides from herbs (chilli-garlic-ginger-lemongrass onion)" implemented by a group of students from Pham Thi An (Agronomy faculty) as a leader .

* The third prize with the idea of ​​"Production and distribution of hanging gardens system served the needs of clean vegetables and plants" done by a group of students from Nguyen Thi Hang and Le Tri Tinh (Agronomy faculty) as leaders.

These are results to be proud of HUAF on scientific research of students in the university.

Through this contest, Youth Union of HUAF continues to launch the movement and call on all students to propose ideas for the creative contests for scientific research in the upcoming time.
Some photos were taken in the final: