Within the framework of the project "Public health risks posed by Group B Streptococcus in aquaculture in Southeast Asia" conducted by Hue University of Agriculture and Forestry, from May 31 to June 1,2018, the workshop on Group B Streptococcus in aquaculture and humans funded by The Academy Organization of Medical Sciences, British Academy, the Royal Academy of Engineering and the Royal Society of the United Kingdom organized by Hue University of Agriculture and Forestry.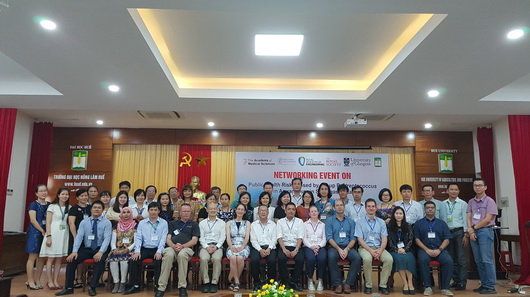 The workshop was attracted by many scientists from national and international organizations such as: University of Glasgow, the United Kingdom; University of Stirling; Tan Tock Seng Hospital, Singapore; Mahidol University, Thailand; Politeknik Negeri Pontianak University, Indonesia; Genetics Institute, Singapore; Hue Central hospital; Hanoi Tropical Hospital.

The purpose of the workshop was to share knowledge about Group B Streptococcus that caused diseases in aquatic animals and humans.

At the workshop, scientists presented useful and practical research contents such as: Role and future of diseases diagnosis in improving aquatic feed production; Biological approach to diseases detection and surveillance; Streptococcus agalactiae ST283 in Southeast Asia; GBS in aquaculture and public health - views from Southeast Asia;and so on.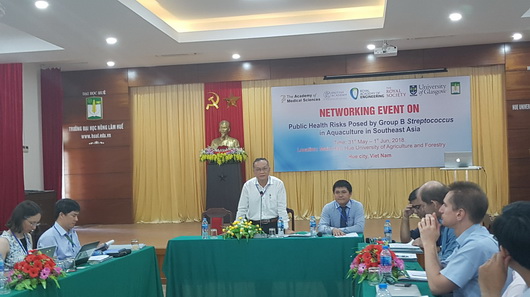 Assoc.Prof.Dr Le Van An delivered the speech in the workshop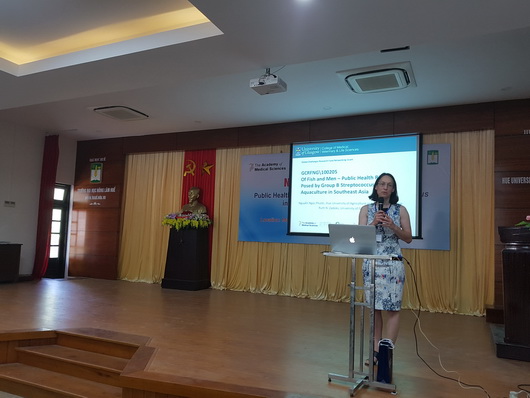 A scientist presented the topic in the workshop