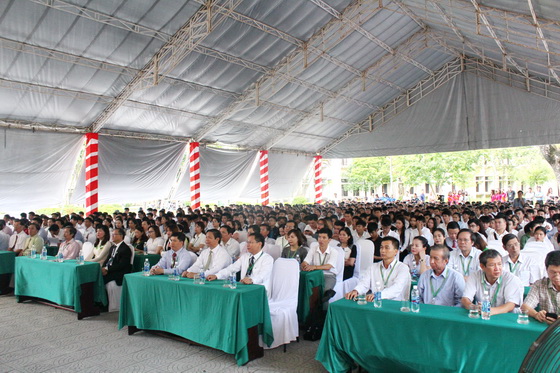 Participants in the opening ceremony
Attending the ceremony, on behalf of companies and enterprises in Thua Thien Hue province, there were representatives of banks, insurance companies, limited companies, and uniform companies.
Representatives from Hue University: Dr. Do Thi Xuan Dung - Vice President of Hue University; Dr Le Nam Hai- Deputy Head of Education;
Participants of HUAF were Assoc. Prof. Dr. Le Van An – Rector of HUAF; leaders of departments, faculties, centers, institutes of HUAF; mentors; and about 1200 freshmen K52.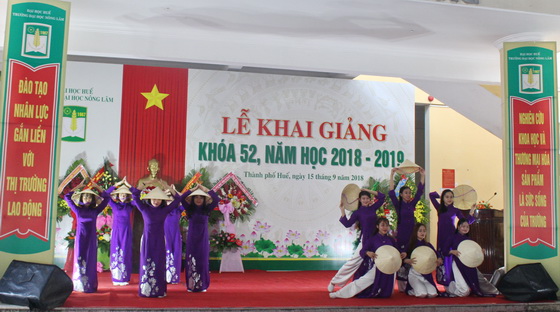 Music performances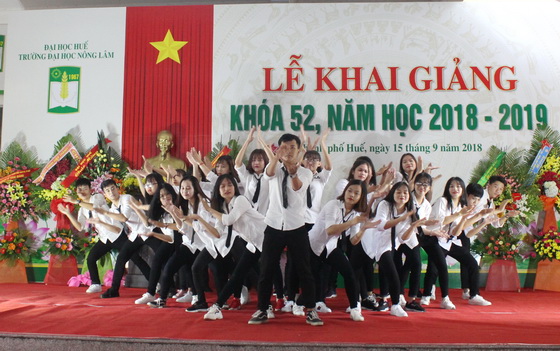 Music performances

Currently, Hue University of Agriculture and Forestry has a training scale of 8,000 students, including 7,200 undergraduate and 800 graduate students. The university has 8 faculties, 9 functional divisions, 01 research institute, 4 scientific research centers. The total land area of the university is nearly 80 hectares and has 4 centers for practice, study outside the university. The current staff is 417 people, including 285 lecturers. The quality of the teaching staff has been improved, including 45 professors, associate professors and nearly 100 doctors. By 2020, HUAF will have more than 50% of PhD teaching staff.
So far, the university has provided with nearly 31,000 engineers, 2,200 masters and dozens of PhDs for the whole country. In addition, the university has achieved many results of scientific research in the fields of agriculture, forestry and fisheries, rural development, land and environmental management, engineering, and food processing that are transferred to companies, businesses, and localities throughout the country.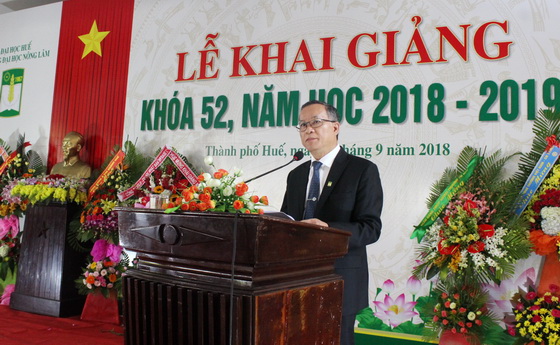 Assoc. Prof. Dr. Le Van An delivered a speech in the opening ceremony of the new academic year 2018-2019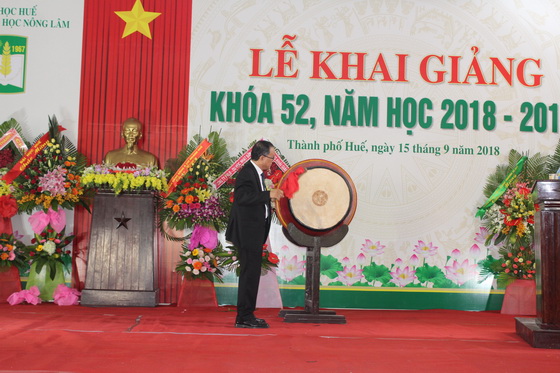 Speaking at the opening ceremony, Assoc. Prof. Dr. Le Van An said: In the university entrance examination, HUAF was assigned the target enrollment of 2,320 students. So far, the university has recruited 1,160 targets. Many majors have high enrollment rates such as Animal Science and Veterinary Medicine, Fisheries, Food Technology, Land Management, Mechatronics. Moreover, Assoc. Prof. Dr. Le Van An emphasized: "Freshmen K52 will encounter many difficulties such as learning pressure, adaptation to new learning methods, and so on. Thus, they should try their best to achieve good results in learning. In addition, lecturers and staff of HUAF will create favorable conditions for freshmen K52 to complete their studies".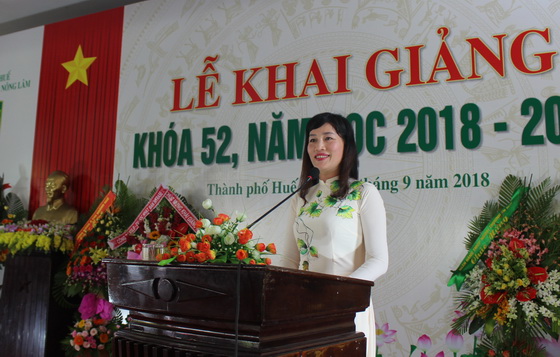 Dr. Do Thi Xuan Dung - Vice President of Hue University

On behalf of Hue University, Dr. Do Thi Xuan Dung - Vice President of Hue University highly appreciated and congratulated the success of HUAF on the construction and development during over 51 years. Dr. Do Thi Xuan Dung hoped that HUAF would keep on innovating the university governance and improving the quality of training to gain the expected targets.
On this occasion, the university awarded certificates of merit to freshmen who had received the highest marks in the last national exam. In addition, a lot of scholarships awarded by sponsors for excellent and poor students.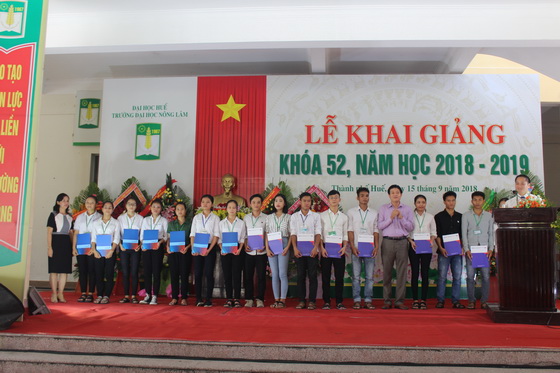 Granting scholarships for excellent freshmen K52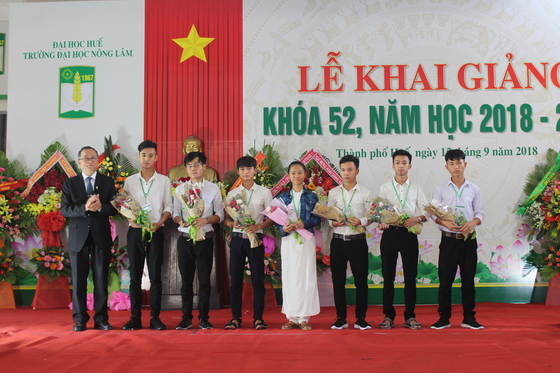 Granting scholarships for excellent freshmen K52