The participants also consisted of Assoc.Prof.Dr Le Van An who is the rector of HUAF hosted the meeting, along with Assoc.Prof.Dr Phung Thang Long who is Vice Rector of HUAF, staffs of Center for Agriculture Forestry Research and Development. Furthermore, teachers from Quoc Hoc High School and the delegation including 4 professors, 12 students in the university and 12 students in high school of Kyoto University attended the meeting.
At the meeting, Assoc.Prof.Dr Le Van An said that HUAF has received a lot of students from Kyoto University through students exchange program since 2006. Students of each university have had opportunities to go abroad in a short time for instance, students of Kyoto University have been to HUAF Vietnam to study, and as well as attending other activities. Thus, students were very attracted when taking part in this program. Moreover, Assoc.Prof.Dr Le Van An hoped that HUAF will continue to receive more international students, especially Japanese students to study in our university. He wished that HUAF strengthened ties with Kyoto University to successfully develop the international program in the future.
On this occasion, students would join in study tours including visiting to some places such as faculties in HUAF, community house in Hong Ha commune, A luoi district, Thua Thien Hue province. What is more, they would pay a visit to the Demilitarised zone in Quang Tri province (Ancient citadel of Quang Tri, Vinh Moc Tunnels). Additionally, students would do sightseeing in famous places in Hue to get information on the Vietnamese cultures.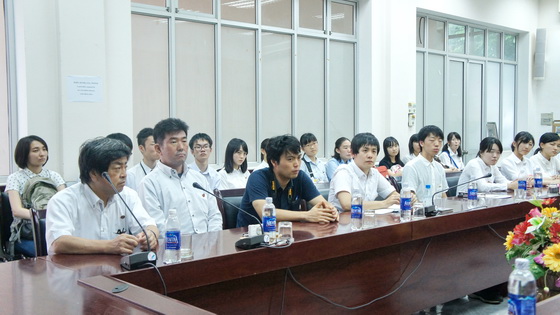 The delegation of Kyoto University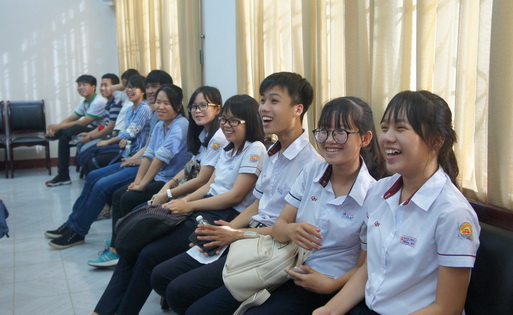 Quoc Hoc students