The funded project is "Diversifying indigenous lotus products combined with developing eco-tourism: A model of eradication. poverty reduction for rural women in Phong Binh commune, Phong Dien district, Thua Thien-Hue province".

The witnesses of the signing ceremony were representatives of the Cooperation and Development Board, the European Delegation to Vietnam, UN Women, the Ministry of Education and Training, the Ministry of Culture, Sports and Tourism; Vietnam Royal Natural Food Company (project coordination unit) and reporters of some Vietnamese news agencies.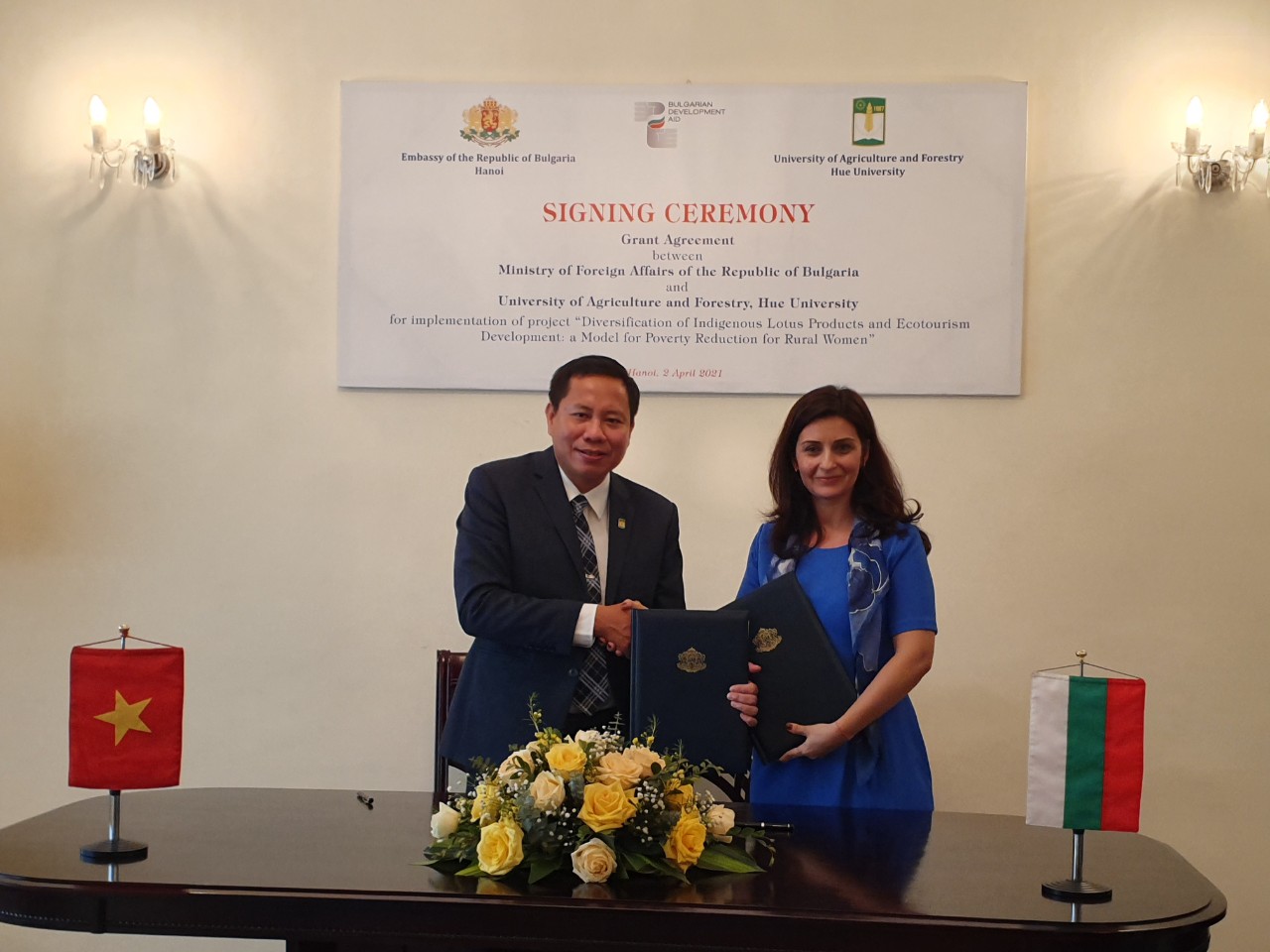 Bulgarian Ambassador to Vietnam - Ms. Marinela Petkova and Rector of HUAF - Assoc. Prof. Tran Thanh Duc signed the sponsorship agreement
This is the only project selected for funding out of a total of 38 project proposals submitted to the Bulgarian Embassy. The total project value is more than 35,000 Euro, of which more than 30,000 Euro (86%) is financed by Bulgarian ODA. This project is incubated and developed from the pilot production and commercialization project of HUAF in 2018-2019.

At the signing ceremony, Ms. Marinela Petkova highly appreciated the goal and meaning of the project in helping disadvantaged women groups in rural areas to improve their capacity in production, processing and trading of tree products. local lotus. Thereby, indigenous lotus varieties will be preserved and replicated through VietGap-oriented production models and high-tech processing, combined with local community-based ecotourism development.

Furthermore, the project will publish research results on conservation of indigenous lotus varieties and diversification of livelihoods for local people in prestigious national and international scientific journals. In addition to the project framework, the two sides exchanged and shared plans for cooperation in science and technology, training and student exchange in the near future.