In the academic year (2015-2016), Hue University of Agriculture and Forestry has 1,393 students, including 959 full-time students and 434 part- time students who have been conferred their graduation. In this school year, HUAF had 663 students who have graduated, comprising 12 excellent students (accounting for 1.81%); 138 good students (20.8%); 461 students achieved rather good grades (69.5%); 55 and average students (8.3%). In particular, students in the Agronomy faculty and Fisheries faculty who gained high marks such as students in the majors of Horticulture and aquaculture.
Assoc.Prof. Dr. Le Van An – the rector of HUAF said that Hue University of Agriculture and Forestry had well-equipped students with the most fundamental knowledge so that they could develop their knowledge, contributions and apply in real production. In addition, Assoc. Prof. Dr. Le Van An also hoped that the students must attempt, to continue their education, do researches, creativity, overcome obstacles, and apply scientific knowledge to have responsibility in their work. Furthermore this will improve, and foster the graduates to succeed in what they have chosen.

Assc.Prof.Dr Le Van An delivered a speech at the ceremony
After that, Mr. Pham Phuoc Quang who is the representative of new engineers in these courses expressed his deep gratitude to all lecturers of HUAF who have taught him and students enthusiastically during the time. He promised to try and well apply the knowledge which has been learned, and overcome challenges to improve himself in order to become an useful citizen in the society.

Pham Phuoc Quang gave a speech at the ceremony
On this occasion, HUAF had decided to reward merit certificates for excellent and good students who got high marks during the course. Furthermore, the rector gave certificates to active students who took part in all activities in the university.
Music performances at the beginning of the ceremony
Participants in the ending ceremony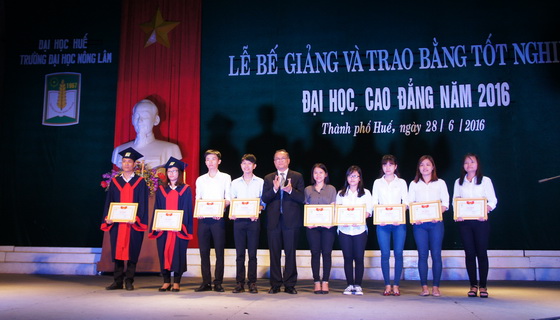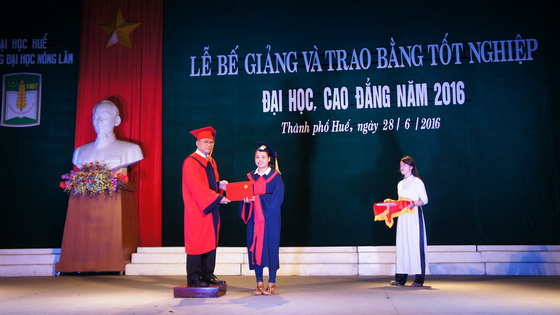 Assoc.Prof.Dr Le Van An conferred the diploma on each student