The preliminary round of the contest "Scientific Creativity and Agricultural Start-up for students in 2018
Tuesday - 04/12/2018 15:28
From November 29th to December 3rd, 2018, the preliminary round of the contest "Scientific Creativity and Agricultural Start-up for students in 2018" was held at University of Agriculture and Forestry, Hue University (HUAF).
This year, the contest has attracted over 80 groups with a total of over 300 students from 07 faculties of HUAF.
In addition, juries of the contest are lecturers from faculties and representatives of enterprises and agencies.
In the preliminary round, 30 excellent ideas were selected by the organizers to take part in the final round. These groups will continue to participate in the training to improve their ideas.
The final round of the contest will be organized at the end of this month.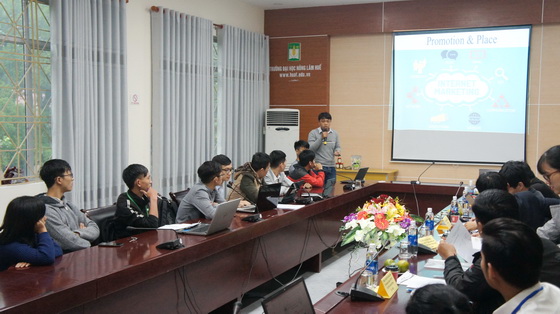 Representatives of groups presented their ideas in the contest