Meeting with Kasetsart University, Thailand
Tuesday - 08/05/2018 15:28
On May 7, 2018, the delegation of Kasetsart University (KU), Thailand paid a working visit to Hue University of Agriculture and Forestry (HUAF).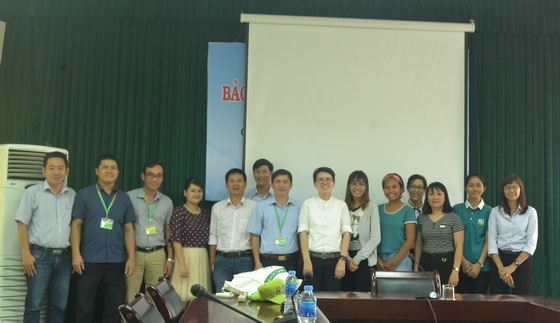 Attending and receiving the delegation included: Assoc. Prof. Dr. Le Dinh Phung - Vice Rector of HUAF, representatives from Department of Science, Technology and International Cooperation, Faculty of Agricultural Extension and Rural Development, Faculty of Agronomy, Faculty of Engineering and Food Technology and Faculty of Animal Sciences & Veterinary Medicine.
At the meeting, leaders of two universities wished to hear the opinions of students from Kasetsart University, Thailand, who are participating in the international student exchange program at HUAF since February 2018.
After that, leaders of two sides shared some issues related to the international student exchange program within the collaborative framework of two universities such as desgining the international curriculum in line with students' specializations, credit transfer, time for students in classrooms, laboratories, and fieldtrips…
At the end of the meeting, Assoc. Prof. Dr. Le Dinh Phung - Vice Rector of HUAF hoped that two sides would continue to discuss in details, set orientations to improve the program better in the near future.
Leaders of HUAF at the meeting
The delegation of Kasetsart University, Thailand at the meeting
Assoc.Prof.Dr Le Dinh Phung (left) - Vice Rector of HUAF gave a gift to a representative of KU