-In 1969 The University established Common Department, including the Department of Basic Sciences, Agricultural Economic and Marxist – Leninist Politics.
- In 1977 the University decided to establish the Department of Basic Sciences, including the following subjects: Mathematics, Physics, Chemistry, Biology, Foreign Languages ​​and Physical Education.
- In 1998 the Department taughttheoretical basic science subjects under the Supervision of University of Sciences and laboratory practice under the supervision of Laboratory Training Board of Hue University.
- In 2008 Hue University endorsed decision No.028/QĐ-ĐHH-TCNS on the establishment of Basic Sciences Department at the Hue University of Agriculture and Forestry. Basic Sciences Department was re-established on the basis of academic staffs and technical staffs from the Center for Teaching and Laboratory of Hue University.

2. ORGANIZATIONAL STRUCTURE AND STAFFS
2.1. Regarding the organizational structure: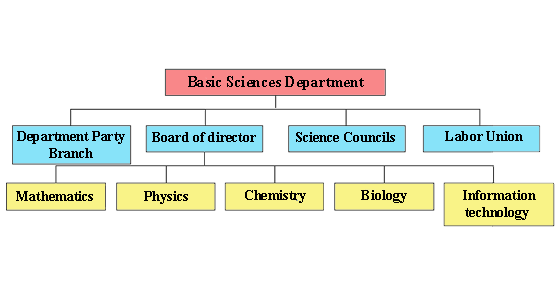 Board of Director
1. MS. Tran Ngoc Truoi :Dean
2. MS. Nguyen Dang Nhat : Vice Dean
2.2. Personnel:
The current number of Lecturer, Research Fellow of the Faculty is 2 8 people, including 22 Lecturers, 5 Researchers, and 1 Specialist. Staff qualifications: 91% has postgraduate qualifications: 1 PhD, 20 Master and 6 Bachelors.
3. TRAINING
- Basic Sciences Department hold the teaching jobs of basic science subjects: Mathematics, Physics, Chemistry, Biology and Information Technology for all full-time and part time students at school.
- Collaborate with the Training Division and other Specialty Departments to build schedules, lesson plans, courses and training programs according to credit system in line with the object of study for each student.
- Basic Sciences Department undertake refresher programs for undergraduate, high school and college; make exam questions to judge full-time, part-time and transition students.
- Participate and guide their college students implement research projects related to Basic and Applied Sciences.
4. SCIENTIFIC RESEARCH
From 2008 until now, the scientific research work was paid a lot of attention and achieved some initial results with some subjects at all levels as follows: 04 theses at Hue University and 18 theses at school level. Numerous articles are published in prestigious journals at home and abroad, many reports were published in the Proceedings of seminars and conferences.
5. STAFF DEVELOPMENT
Recently, 1 lecturer is researcher in Taiwan, 3 lecturers are domestic institution researchers. Striving toward 2019, the Faculty will have achieved 100% postgraduate qualifications lecturers.
6. PARTNERSHIPS
Currently, Basic Sciences Department is pursing relationships and partnership with other multiple of Basic Science Department from other University, Colleges of agriculture, forestry and fisheries throughout the country.
7. HONORS
The collective efforts of the staff and faculty in the Basic Sciences Department has been recognized by many Merit Awards from the Ministry, of other organizations and certificates of merit from the University of Hue.