The Seminar on Vietnamese Women's Day
Tuesday - 18/10/2016 14:29
On the purpose of celebrating the 86 year- anniversary of Vietnamese Women's Day (October 20th,1930 – October 20th,2016), yesterday afternoon (October 16th), HUAF warmly held a seminar on the theme "Health and the beauty of women".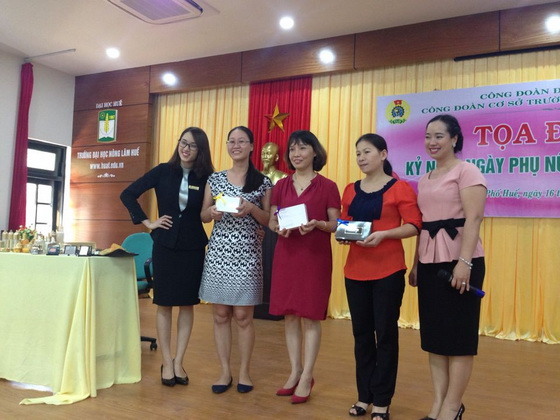 The seminar consisted of Mr. Le Trong Thuc - Chairman of the Trade Union and all female staffs of HUAF. Especially, with the participation of the advisory group to beauty care from LG OHUI Cosmetic company (subsidiary of Hue), led by Ton Nu Kieu Ai - Director of the company.

At the seminar, Ms. Tran Quang Khanh Van - Head of the Women's Trade Union Board sent the warm greetings to ladies of HUAF on the occasion of Vietnamese Women's day (October 20th). She desired that ladies of HUAF have always strived to fulfill and complete the outstanding tasks assigned. Moreover, they have become the elite members and have been good at the university. These elements are the solid prop for their families and for society as well as are good examples for their students to follow. Ms. Tran Quang Khanh Van also hoped that female staffs will continue to strive to develop their strength to fulfill the assigned tasks; be always fresh flowers to scent and stain for life and bring happiness and peace for people.

According to MA. Le Trong Thuc- Chairman of Trade Union of HUAF, he stated that HUAF always supports and facilitates the activities of female staffs. In the past school year, HUAF was honored to receive outstanding achievements of female staffs who were good at scientific research activities and technology transfer successfully. He wished all female staffs will have good health and fun in Vietnamese Women's Day (October 20th) and hoped that they keep striving to become good women in their homes as well as in society.

Next, Ms. Ton Nu Kieu Ai exchanged and shared of knowledge, experience in beauty care for women. By accessing and closely explaining, she and her staffs had created an atmosphere of openness, making the seminar more exciting, interesting and rewarding.

Most female staffs said that the seminar was really a nice and practical theme, which would help them better understand the methods of health and beauty care.

Ending the seminar, the representative of Women's Trade Union Board expressed her deep thanks for what Ms. Ton Nu Kieu Ai and her staff shared.
Music performance at the beginning of the seminar
MA. Pham Thi Thanh Phuc delivered the speech at the beginning of the seminar
MA.Tran Quang Khanh Van- Head of the Women's Trade Union Board
MA. Le Trong Thuc- Chairman of Trade Union of HUAF sent warm greetings to HUAF's ladies
The representative of LG OHUI Cosmetic company shared experiences in beauty care
Ms. Ton Nu Kieu Ai- Director of the company at the seminar
Ladies received lucky gifts from the company