Nearly 60 students attended the Israeli high-tech agricultural trainee program
Saturday - 30/09/2017 15:16
Pursuant to the policy of cooperation between the Ministry of Agriculture and Rural Development (MARD) of Vietnam and the Ministry of Agriculture of Israel on training cooperation of Vietnamese students in the field of agriculture in Israel, two sides agreed to coordinate the implementation of agricultural students to practice agriculture in Israel under the Israeli Agricultural Training Program between the MARD of Vietnam and the Ministry of Agriculture of Israel. Hue University of Agriculture and Forestry (HUAF) was honored to become an affiliated unit to support students who participated in this program.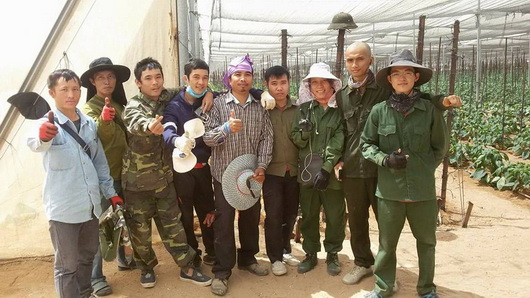 On the purpose of improving knowledge and practicing of high-tech agriculture, accessing to modern agricultural technology and techniques, HUAF had cooperated with OLECO, which is belonged to MARD, assigned by the Government to send students to internships in Israel.
In this program, 54 students of HUAF had been recruited, trained and joined internships in Israel for 12 months. When participating in this program, students not only got high-income in hi-tech agricultural centers but also they gained knowledge and skills in agriculture and management of high-tech agricultural production in universities, institutes and high-tech agricultural research centers in Israel.
This is a cooperation and development program and training program within HUAF's strategy to improve the quality, help students soon access to modern agricultural production and equip the knowledge, skills for students' career after their graduation. Furthermore, HUAF will further promote the number of participants who can participate in the program in the fields of food processing, mechanical engineering, biotechnology, and so on.
Thanks to OLECO and MARD's support and cooperation, HUAF had implemented this program and looked forward to receiving more support, facilities and cooperation from the company and MARD in the forthcoming time.
HUAF students took part in international conferences, internships in Israel