Mr. Tamai Toshihisa - the Mayor of Saijo city (Japan) paid a working visit to HUAF
Friday - 05/05/2017 10:35
On April 28th, 2017, Mr. Tamai Toshihisa - the Mayor of Saijo city (Japan), along with his delegates, paid a working visit to HUAF. Assoc. Prof. Dr Le Van An - Rector of HUAF and leaders in some departments warmly welcomed them to the university.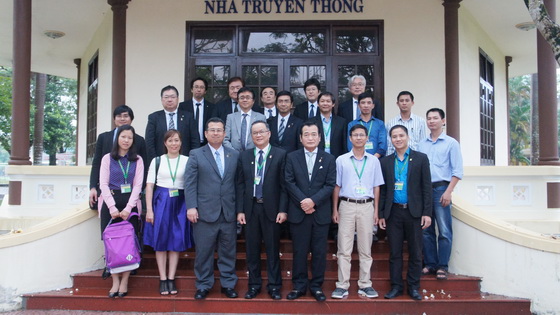 At the reception, Assoc. Prof. Dr Le Van An expressed his honor when the Mayor of Saijo visited to the university. Assoc.Prof. Dr. Le Van An said that Hue University of Agriculture and Forestry and Saijo City had had the opportunity to meet and exchange with each other through Kyoto University, Japan since 2005. Over the past several years, many staff members had been trained and experienced in Japan, especially in Saijo city. Furthermore, graduates of HUAF worked in many companies and enterprises in Japan that had brought a lot of success to them. In addition, the university had also cooperated with the companies which specialized in Japanese language training at the university. This collaboration is a good advantage for students of the university if they do practice and work in Japan.
Assoc. Prof. Dr Le Van An stated in the meeting
According to Associate Prof. Dr. Le Van An, the university not only contributed to cooperation in disaster prevention education, but also collaborated and developed in the fields of culture, education, and economics. This was also the bridge between Hue city, Vietnam and Saijo city, Japan. "For Thua Thien Hue province, we will be ready to support Japanese companies that want to develop in agriculture and fisheries in our city. Through the cooperation, I hope two sides keep developing friendly relations because it becomes more sustainable, "Associate Prof. Dr. Le Van An emphasized.
Mr. Tamai Toshihisaii thanked leaders of HUAF for receiving the delegation. Through the relationship between two sides, Mr. Tamai Toshihisaii also wished to have many talented Vietnamese students working in Saijo city. During this visit, the delegation had many members who were good entrepreneurs. He hoped that two sides would develop cooperation in the areas related to promoting economic, cultural, and educational development between HUAF and Saijo in particular and between Vietnam and Japan in general.
On this occasion, Mr. Tamai Toshihisaii and his delegation participated in the 7th Hue Traditional Festival, which was held in Hue city from August 28th , 2017 to May 1st, 2017.
Mr. Tamai Toshihisa delivered the speech
Giving gifts for each other
Taking photos together