Joint Conference of Student Affairs, Youth Union and Students Association in the academic year (2017 – 2018)
Tuesday - 29/08/2017 09:48
On August 16th, 2017, Student Affairs Department along with Youth Union and Students Association of Hue University of Agriculture and Forestry (HUAF) held a joint conference in the academic year (2017-2018).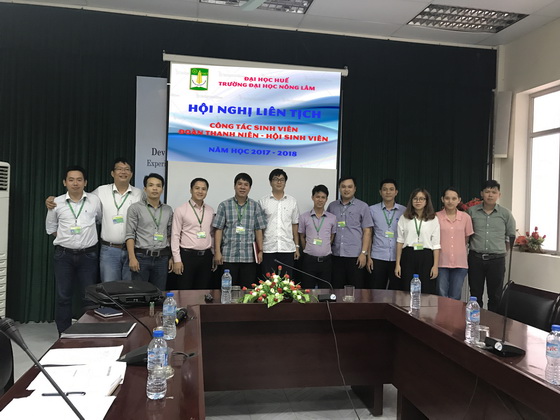 Attending the conference included Assoc. Prof. Dr. Huynh Van Chuong- Deputy Secretary of Party Committee- Vice Rector of HUAF, along with leaders of Department of Student Affairs, and the Secretary Board of Youth Union and Students Association.
The conference discussed and agreed on the functions, tasks and coordination mechanism of three parties in the organization. In addition, the management of learners, and members in the university also were part of the conference.
At the conference, representatives of the Youth Union and Students Association adopted the goals, action plans, and key activity framework during the academic year.
Speaking at the meeting, Assoc. Prof. Dr. Huynh Van Chuong highly appreciated contributions of all parties in good coordination with functional departments to organize activities. In the upcoming time, the units will keep fostering their achievements that they have obtained in order to better implement their responsibilities in accordance with the functions and tasks aiming at supporting learners, members, and students and the development of the university in generally.