Two students of HUAF won prizes in the national mathematical Olympiad competition 2018 in Quang Binh province
Thursday - 26/04/2018 09:11
From 9 to 14 April 2018, the 26th national mathematical Olympiad competition was taken place in Quang Binh University and co-organized by Vietnam Mathematical Association, Vietnam Student Association, Vietnam Union of Science and Technology Associations and Quang Binh University.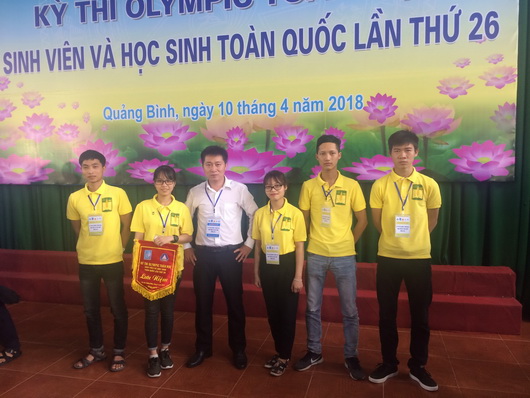 The contest attracted nearly 700 participants from 90 delegations of universities, colleges, academies and 11 specialized schools in the country. Candidates competed in both Algebra and Analytics.
The contest aimed at enhancing the quality of teaching, learning mathematics, detecting and adopting students who are good at maths in universities, colleges and academies.
This year, 7 members of HUAF including 5 students: Le Thi Nhat Anh, Le Quang Bao, Nguyen Dinh Hoang, Nguyen Thi Ly, Nguyen Tien Si, and 2 lecturers: Mr. Nguyen Duc Hong- leader of the delegation and Ms. Nguyen Ngoc Anh from Faculty of Fundamental Sciences participated the competition.
At the end of the competition, Le Quang Bao and Nguyen Dinh Hoang won the third prizes.
Congratulations on HUAF students.