Meeting with HUMAN SUPPORT COMPANY
Tuesday - 19/06/2018 05:19
On June 19, 2018, HUAF had a meeting with HUMAN SUPPORT COMPANY on deploying the Internship program in Japan.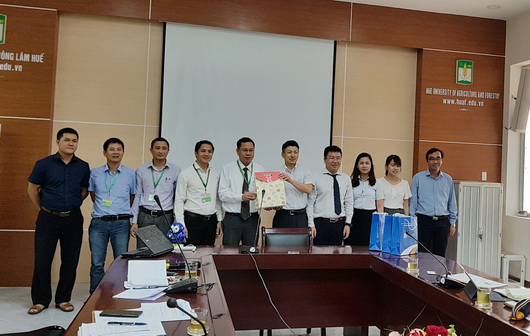 Attending the meeting, there were: Assoc. Prof. Dr. Tran Thanh Duc - Vice Rector of HUAF; Representatives of Science, Technology and International Cooperation Department, Student Affairs Department, Faculty of Engineering, and Faculty of Agronomy.

To Human Support Company, there were Mr. Tatsuya Sakamoto - General Director and members of the delegation.

At the meeting, Assoc. Prof. Dr. Tran Thanh Duc, Vice Rector of HUAF said that HUAF gave students opportunities in studying and having experiences in Japan to learn about language, culture, and the ability to work in a foreign environment to improve the quality of training associated with social needs.

Then, representatives of Human Support Company introduced about the Internship Program in Japan as well as jobs, the monthly allowances and benefits for students participating in the program. In particular, the company has supported recruitment programs of companies for engineers, technicians graduated from engineering, food technology, electronics and agriculture.

Mr. Tatsuya Sakamoto - General Director of HUMAN SUPPORT COMPANY said: The company specializes in developing a lot of fields of car, aircraft, food, agriculture ... in accordance with the training of the university. In addition, the company will also support students in the process of joining the internship so that they can apply for a job after their graduation. Mr. Tatsuya Sakamoto also expects that the company and HUAF will build long-term relationships.