Information exchange between Kamichiku Group, Japan and HUAF
Tuesday - 04/12/2018 14:58
On December 3rd, 2018, University of Agriculture and Forestry, Hue University (HUAF) had a meeting with Kamichiku Group, Japan. Assoc. Prof.Dr. Le Dinh Phung - Vice Rector of HUAF welcomed the delegation.
At the meeting, a representative from Kamichiku Group, Japan briefly introduced the Group's operating models in Japan and Vietnam. Kamichiku Group is considered as the leading agricultural unit in Japan, aiming to develop its businesses from farm to restaurant. The Group consists of 09 affiliated companies in Japan and Vietnam. In addition, the Group is one of the largest breeding units in Japan. Furthermore, the Group is committed to promoting sustainable cattle production in order to produce high quality at low prices.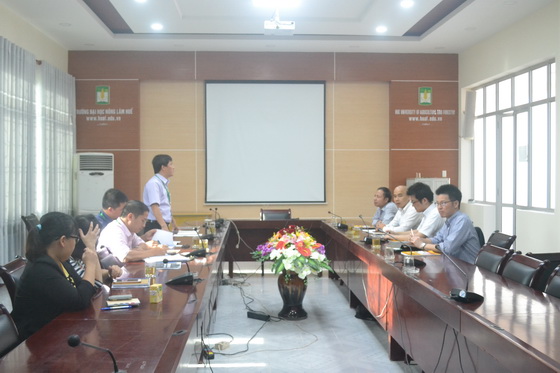 Assoc.Prof.Dr. Le Dinh Phung- Vice Rector of HUAF stated in the meeting
After that, leaders of HUAF briefly introduced the training program of the university to the partner, especially the specialization of Animal Sciences - Veterinary Medicine. What is more, HUAF also introduced a lot of cooperation programs with many international universities as well as companies that have taken students to work and study abroad. This was an occasion between the Group and HUAF to exchange information so that two sides could establish a cooperative relationship in training by signing a Memorandum of Understanding in the upcoming time.
Previously, Kamichiku Group, Japan recruited 09 engineers to work in Japan, including an alumni of HUAF, who was highly appreciated by the Group. At the end of the meeting, Kamichiku Group, Japan hoped that HUAF would create favorable conditions for students to do internships and work in the Group in the future.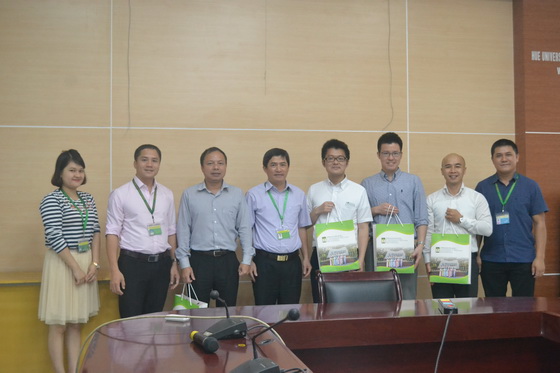 Two sides took a photo together