BIM Group discussed the orientation of career for students and directly recruit at HUAF
Thursday - 01/06/2017 09:22
On June 1st, 2017, the leaders of Hue University of Agriculture and Forestry (HUAF) had a meeting with Mr. Doan Quoc Viet - General Director of BIM Group.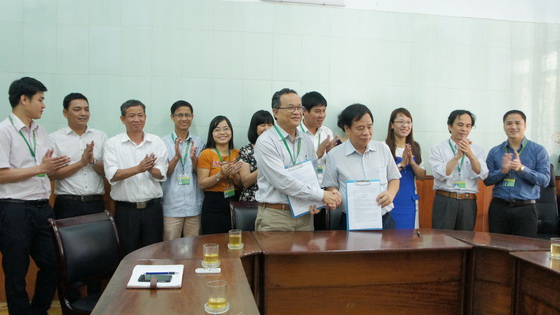 Participants of HUAF including Assoc. Prof. Dr. Le Van An - Rector, Associate Prof. Dr. Huynh Van Chuong - Vice Rector, leaders of Student Affairs Department, leaders of Faculities (Fisheries, Engineering, Agronomy, Forestry, Agricultural Extension & Rural Development).
BIM is one of the most diversified private economic groups in Vietnam. The headquarter is located in Ha Long City, Quang Ninh Province. BIM Group has expanded its business model and focused on three major spheres, including: Tourism Development and Investment, Real Estate, Agriculture - Food and Commercial Services. In addition, BIM Group has participated in the Job Fair Day at HUAF in recent years in order to recruit students to work in BIM Group.
Speaking at the meeting, Assoc. Prof. Le Van An was delighted to welcome leaders and staff of BIM Group to visit and work with the university. Assoc. Prof. Dr. Le Van An said that many students of the university, especially students of Fisheries Faculty, have practiced in the Group. This was a good condition for students to encounter the working environment in the Group as well as to make acquainted with real production. On the other hand, HUAF always tried to update the training programs to pursue the needs of companies and enterprises today.
Leaders of HUAF in the meeting
At the meeting, Mr.Doan Quoc Viet highly appreciated the capacity of students of HUAF who are practicing and working in the BIM Group. He emphasized that students of HUAF are diligent, hardworking during the internship and working in the Group. He wished that HUAF continued to create conditions for students to practice and work in the Group. Moreover, Mr Doan Quoc Viet was also interested in the other fields such as Agronomy, Engineering and Food Technology."Through strategic cooperation with the Faculty of Fisheries, BIM Group has proposed to extend the internship time for students to work at the Group. Additionally, BIM Group will orient career for students, and implement the collaborative development programs with other departments of HUAF", he shared.
Mr.Doan Quoc Viet stated in the meeting
After that, HUAF and BIM Group signed a long-term strategic cooperation agreement within the framework of cooperation between the two parties.