02 students of HUAF won 02 prizes in Vietnam Mathematical Olympiad Competition
Friday - 22/04/2016 16:34
The HUAF team of 04 students who are studying at Faculty of Engineering and Food Technology won 02 prizes at the Vietnam Mathematical Olympiad (VMO) competition held in Quy Nhon University, Binh Dinh province from April 11 to 17.The Hue University of Agriculture and Forestry (HUAF) team led by Mr. Nguyen Duc Hong who is the lecturer of Faculty of Basic Science.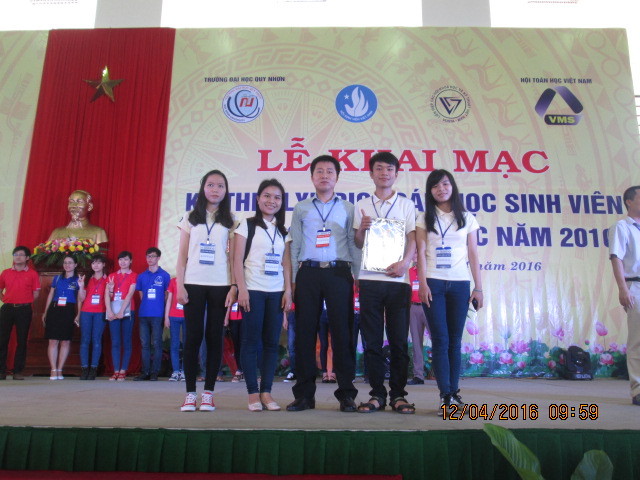 The first VMO competition was taken place in 1993 aiming at urging pupil and student's motivation, enhancing the quality of mathematic teaching and learning. These are good opportunities so that the organizers can discover and cultivate excellent mathematic learners during their degrees.

The 2016 VMO competition had the participants of 94 teams including 1000 pupils and students who came from universities, colleges and high schools in the whole country. The competition co-operated by Vietnam Mathematical Society along with other educational units in Vietnam.

Two prizes included Tran Viet Tai Duc who won Prize 3 of Analytics and Doan Thi Kim Huong who won the Encouragement Prize of Algebra. The results were expressed deeply honor to HUAF.

On this occasion, the HUAF team also joined in activities relating to the topic "Love of Marine and Island".
The HUAF team
Tran Viet Duc Tai won prize 3 of analystics
Doan Thi Kim Huong won the consolation prize of algebra