The Memorandum of Understanding signing ceremony between Gezira University, Sudan Republic and HUAF, Vietnam
Friday - 22/04/2016 08:12
On 16th April 2016, the Memorandum of Understanding (MOU) signing ceremony was held in Hue University of Agriculture and Forestry, Vietnam. On behalf of HUAF, Assoc.Prof.Dr Le Van An- Rector of HUAF warmly welcomed Mr. Sayed Altayeb Ahmed – H.E Ambassador of Sudan Republic to Vietnam witnessed the MOU signing ceremony between Gezira University and HUAF.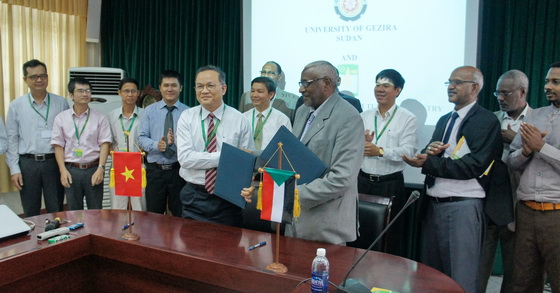 The delegation of Gezira University, Sudan Republic consisting of 6 members who are leaders and staffs attended in this ceremony.

Moreover, participants of HUAF including members of rector board, leaders who are head faculties, head departments in HUAF took part in.

Gezira University of Sudan Republic has focused on community oriented development training. Gezira University has got 21 faculties, 9 institutes and 21 centers in which the Faculty of Agricultural Science and Faculty of Animal Production got the same training majors to HUAF.

At the ceremony, two universities briefly introduced about the history, organizational structure, training programs, scientific research, technology transfer, international co-operation and salient strengths of each university.

Assoc.Prof.Dr Le Van An expressed his deeply honest to Mr. Ambassador's courtesy visit to HUAF. Furthermore, Mr. Sayed Altayeb Ahmed witnessed for the beginning of the bond between Gezira University and HUAF University in fields of agriculture. Additionally, Assoc.Prof.Dr An also emphasized that training programs should be developed in the current context. Two universities therefore needed to be supported by the governments of each country so that two sides could receive the more favorable conditions in durably and sustainably co-operative process.

During the debates, two leaders of two sides mentioned about training program exchange such as staff and student exchange aiming at sharing their experiences and knowledge, paying visit mutually, joining international workshops, conferences, seminars and the development of cooperative projects in future. In addition, leaders of two universities hoped that two universities had good chances in broadening more international relations to other universities in Sudan and Vietnam as well in related fields.

After that, two universities formally carried on the MOU signing ceremony under the witness of all participants at the meeting.

The MOU signing ceremony ended successfully so as to tighten the bond between Gezira University and HUAF University which makes the premise to deploy educational activities, scientific research, and agreements in MOU signed in the next year coming.
At the meeting
Assoc.Prof.Dr Le Van An delivered the speech in the meeting
Two rectors were carrying on signing MOU
MOU signing ceremony has been finished offically
Assoc.Prof.Dr Le Van An gave distinguished guests traditional gifts
All participants took photos to save their memories