The ending program on Students exchange between Kyoto Gakuen High School, Japan and HUAF
Tuesday - 17/05/2016 08:15
On the morning of 13th of May, the ending program on students exchange between Kyoto Gakuen High School, Japan and Hue University of Agriculture and Forestry was held at HUAF's meeting room.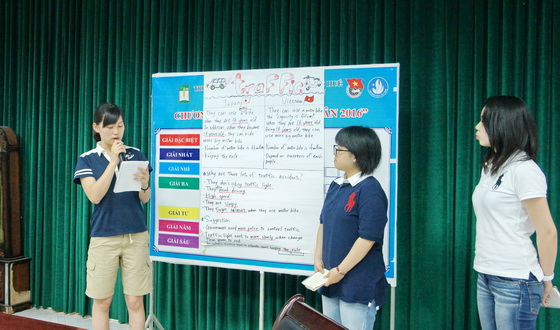 The participants included Assoc.Prof. Dr Le Van An- Rector of HUAF- Director of Centre for Agriculture Forestry Research and Development (CARD), Dr. Ngo Tung Duc- Vice Director of CARD, Dr. Nguyen Ho Lam - Deputy Head of Science, Technology and International Cooperation along with 2 teachers and 11 students who are from Kyoto Gakuen High school, Japan.
During the short time of study tours in Thua Thien Hue province, 11 students of Kyoto Gakuen High School, Japan presented what they have learned in this course. Some topics were mentioned about the differences of cultures and environment between Vietnam and Japan such as food, traditional uniform, traffic and weather conditions. This was good chance for Japanese students who wanted to discover some new things in Vietnam and expressed their attitudes to cultures of two countries.
At the end of the meeting, Assoc. Prof. Dr Le Van An highly appreciated the Japanese students' presentations. He hoped that HUAF will warmly welcome more different Japanese students to HUAF to study with the aims to help them understand better cultures between Vietnam and Japan. In addition, two schools will enter a firmly international relationship in the future.
On this occasion, students of Kyoto Gakuen High School also had a good time in cultural exchange with students of Nguyen Hue High school and teams and clubs of HUAF.
The meeting ended at 5pm at the day.


Kyoto Gakuen students' presentation




Kyoto Gakuen students' presentation




HUAF student's presentation





Dr. Ngo Tung Duc gave a speech in the meeting





Assoc.Prof.Dr Le Van An delivered a speech in the ending program