ENHANCE_ The First Training Replication at HUAF- Innovation and Research Funding
Wednesday - 06/06/2018 16:00
The First Training Replication on Innovation and Research Funding had been organized by ENHANCE partners from Hue University of Agriculture and Forestry on May 18th , 2018. The training was conducted in the framework of the strEngthening National researcH And iNnovation Capacities in viEtnam (ENHANCE) project funded by the Erasmus+ programme.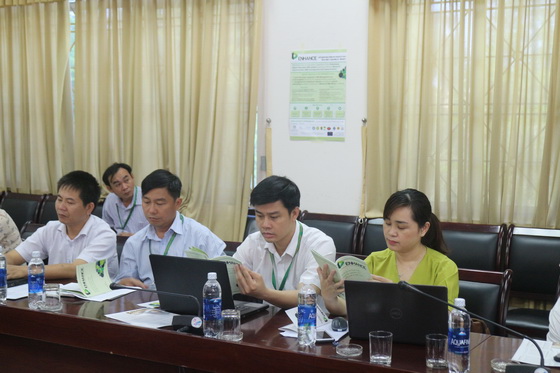 The main aim of the training that took place at Hue University of Agriculture and Forestry (Vietnam) was to give knowledge and attitude to researchers and staff on innovation and research fundraising would be increased. In addition, it provided researchers and staff with skills on how to implement innovation and research fundraising at their units (faculties, departments, and research institutes).
The training attracted 52 participants from HUAF's researchers and staff.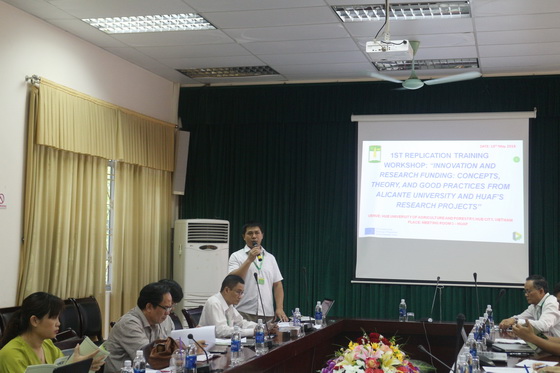 Dr. Pham Huu Ty presented at the workshop
The following topics were addressed: University – Industry Cooperation Basics. Innovation and Innovation Models, Introduction to Fundraising and strategies(Pham Huu Ty);Group Exercises: Discussion on University - industry Cooperation and innovation models in Vietnam; How to effectively define project objectives, activities, sub-activities, results and milestone; Good practices on Fundraising of HUAF (Le Thi Thuy Hang); Financial support of GreenFeed company for Faculty of Animal Science (Duong Thanh Hai).
At the training, the presenters described contents related to Innovation and Research Funding in the university. The participants commented and discussed on the topics actively.