Participants in the workshop consisted of Prof. Dr. Le Van An - Rector of Hue University of Agriculture and Forestry, some faculty members of the faculties of HUAF such as Faculty of Engineering and Food Technology, Faculty of Forestry, Faculty of Land management & Agricultural environment and Faculty of Fisheries.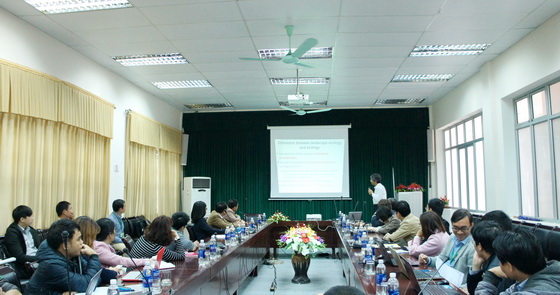 At the workshop
The topics were presented in the workshop by professors of Kyoto University including: Importance of landscape ecological concept to keep an anthropogenic nature with the connectivity of ecosystems; Aquaculture and environment; Research in Vietnam: Socio-Ecological Network Analysis of estuaries and lagoon: a tool for management decision making.
This is a good occasion for lecturers and researchers of two universities on the purposes of sharing information and getting knowledge, comparing similarities and differences in research in related fields.
Professor of Kyoto University presented in the workshop
Professor of Kyoto University presented in the workshop
Assoc.Prof.Dr Le Van An- Rector of HUAF stated in the workshop

It is known that Hue University of Agriculture and Forestry has had cooperative relationships with Kyoto University, Japan through the projects of Japanese International Cooperation Agency (JICA) jointly implemented projects, including "Community based - Rural development", "Local livelihood diversification for vulnerable people in natural disaster prone area". Those projects had brought great results for two sides. Moreover, HUAF and Kyoto University have usually collaborated in staff and students exchange programs in research and training. This reflects on the collaboration and development between two universities in particularly and between Japan and Vietnam in generally.