The project consists of 5 main members, of which Moredun Research Institute, University of Edinburgh (UK) - the project coordinator, University of Toronto (Canada), Stirling University (UK), and HUAF.
Attending the workshop, there were: Assoc. Prof.Dr. Le Van An - Rector of HUAF; Assoc. Prof.Dr. Tran Thanh Duc - Vice Rector; along with leaders, lecturers and researchers of the Faculty of Fisheries.
Other national and international delegates were leading experts in fish immunology, aquatic disease researchers including: Glasgow University, Moredun Research Institute, Edinburgh, University of Stirling-UK; University of Toronto, Canada; Politeknik Negeri Pontianak University, Indonesia; Chulalongkorn University, Kasesart University - Thailand; Putra University, Malaysia; Bangladesh Agricultural University; University of Natural Science - Vietnam National University, Ho Chi Minh; National Fisheries Research Institute; Fisheries departments in Thua Thien Hue, Quang Binh and Quang Tri, as well as representatives from CJ Company (Korea) and tilapia farms in Can Tho and Thua Thien Hue.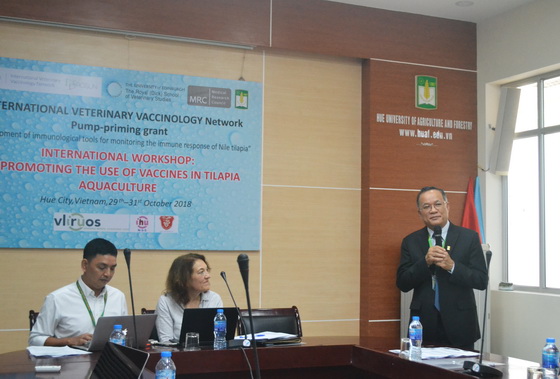 Assoc. Prof. Dr. Le Van An- Rector of HUAF delivered a speech in the workshop
At the workshop, Assoc. Prof. Dr. Le Van An- Rector of HUAF welcomed national and international participants to HUAF to take part in the workshop. He emphasized that the fisheries sector is being focused on developing the country. Therefore, HUAF is always interested in improving agricultural production to meet national and international food security. This plays a vital role in human health. However, this problem is facing to great challenges. Assoc.Prof.Dr Le Van An hoped that many programs related to the quality of food would be held, including agricultural production systems to meet domestic and international markets. Furthermore, co-operative networks among partners from different countries should be formed in order to share experiences and knowledge on fisheries and aquaculture to support future aquaculture.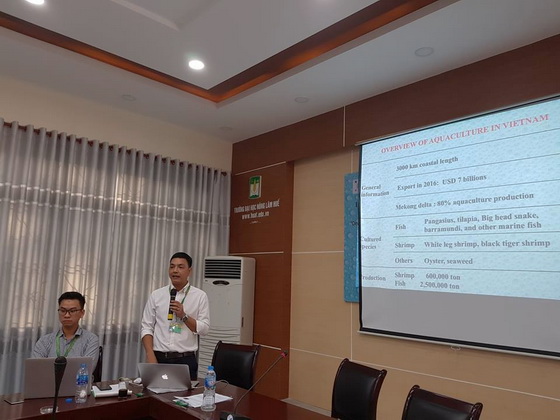 Dr. Nguyen Ngoc Phuoc- Vice Dean of Fisheries Faculty (HUAF)
According to Dr. Nguyen Ngoc Phuoc- Vice Dean of Fisheries Faculty (HUAF), this was an opportunity for project partners to further discuss the results of the IVVN project, transfer technology from the project, promote work to achieve good effects.
At the workshop, scientists briefly presented on some topics such as: aquaculture in Vietnam; vaccines for fish; epidemiology of Streptococcus Agalactiae; immunity of tilapia; new technology to develop vaccines and so on.
On this occasion, the participants visited some aquacultural sites in Hue.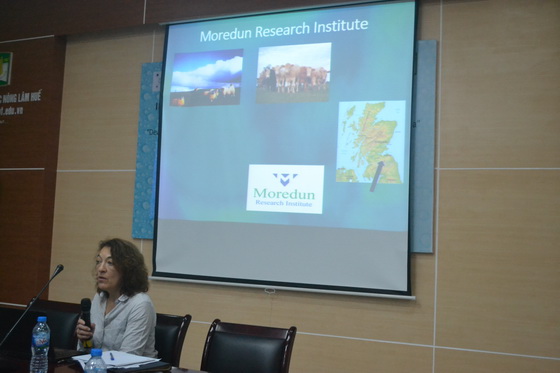 Dr. Kim Thompson from Moredun Research Institute, UK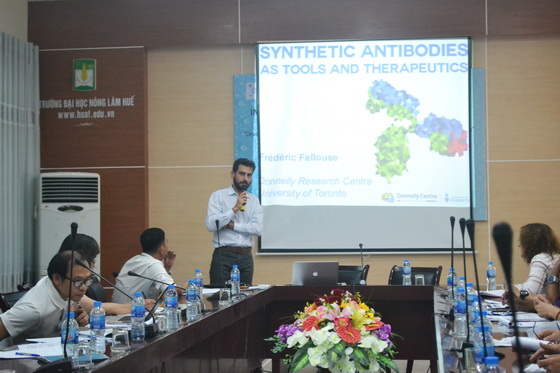 Presenters in the workshop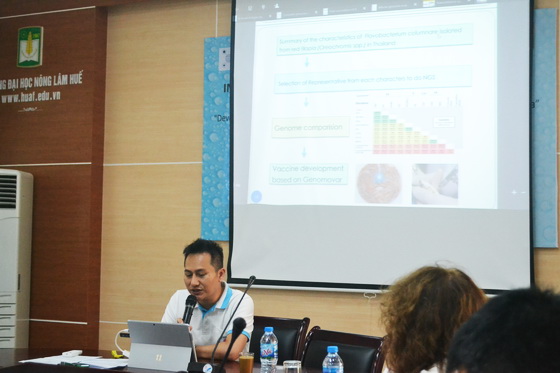 Presenters in the workshop
Taking a photo together